Study Program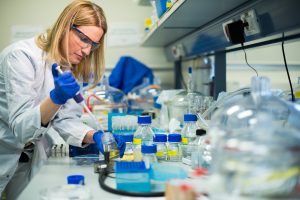 Studies in Biotechnology and Food Engineering are intended for students who seek an engineering-technological education combined with areas of the life sciences such as biology and food sciences. The study program extends over four years. The Faculty offers two main specialization programs, one in food engineering and one in biotechnology engineering. No matter which specialization is chosen by the student, the degree is one combined degree. Thus, graduates of either of the two specialization programs virtually hold two titles in one degree.
During the first three semesters, the students primarily study core courses, which provide them with the mathematics- and physics-fundamentals required for an engineering education. In addition, students take chemistry courses, which provide an essential foundation for subsequent courses. Special emphasis is placed on the biological/biotechnological background of the student. Hence, all students are required to take basic courses in biology that are fundamental to modern biotechnology which include: Introduction to Biotechnology, Introduction to Cell Biology and Biochemistry.
Mandatory courses
Mandatory courses in Biotechnology and Food Engineering are offered in three major categories: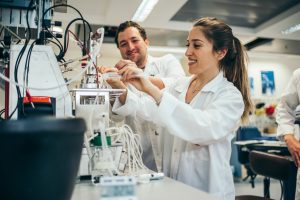 Life Sciences and Biotechnology: Microbiology | Biology | Biochemistry | Biotechnology | Biotechnology engineering |  Molecular Biotechnology (Genetic Engineering).
Engineering: Principles of biotechnology and food engineering |Structure and Properties of Foods and Biological Materials | Thermodynamics  | Food Plant Design | Packaging | Nanotechnologies in Biotechnology and Food.
 Food science: Food chemistry | Food analysis | Nutrition | Toxicology.
Specialization programs
Toward the end of the second year, students select courses related to one of the two specialization programs:
Biotechnology: This track offers advanced courses in Molecular biotechnology (genetic engineering) | Microbiology | Fermentation processes| Separation and recovery processes | Molecular biology | Immunology, etc.
Food engineering:

The students gain expertise in this track in aspects relating to  Food engineering and technology | Packaging | Plant design | Control processes | Functional food | Economics | Marketing and management | Quality control.

In addition to theoretical studies, the students gain practical laboratory experience in a wide variety of laboratories and have the option of completing an experimental final project that implements the knowledge acquired in the different subjects.
At the end of their studies, our graduates receive a combined BSc degree in Biotechnology and Food Engineering.
"Rimonim" excellence program
The "Rimonim" excellence program is a young excellence program established by the faculty of Biotechnology and food engineering in 2015. The program aims to foster and mentor outstanding students during their undergraduate studies and help them on their path to becoming the next generation of leading scientists and engineers. The program, headed by Assoc. Prof. Uri Lesmes, recruits 10-20 students yearly based on their aggregate excellence and outstanding academic achievements. The first group of "Rimonim" students included students from the top 4th percentile with an accumulative average academic grades surpassing the 90.0.
Students in the "Rimonim" program benefit from personal guidance by faculty members, special activities, financial support to attend professional national meetings, preference in finding labs for research internships and participation in the Technion iGEM team. In addition, graduates of the "Rimonim" program who select to continue for M.Sc. or Ph.D. studies in the faculty are entitled to an additional scholarship credit and a 1000$ travel stipend (to cover travel to an international conference/meeting) as well as priority in registration to advanced courses.
Graduates' Experience
My name is Itai Dana and I graduated from the Faculty of Biotechnology and Food Engineering.
My interest in the field of biotechnology began as a young boy when I visited the "Gilat Research Center," where my father worked. There I was exposed to the wonders of science, different agricultural and genetic experiments, and experiments that attempted to adapts strains of fruits and vegetables from around the world to the Mediterranean climate. Later on, I encountered the fields of science when I took part in a science project as part of the "Business Entrepreneurship" program where we were involved in marketing "edible paper" (for printing on cakes), the product of development in the Ofakim "technological incubator". Already then, the simplicity with which science permeates our daily lives and makes life so much easier captivated me.
After my military service I spent a lot of time considering what I should study. I knew that I wanted to learn a range of fields in science and I wanted to choose a profession that, on the one hand, would be practical, and on the other hand, would fascinate and enrich me. After making some inquiries, I understood that Biotechnology Engineering was what I was looking for, and after further investigation, I came to the conclusion that the best place to study was at the Technion, in the Faculty of Biotechnology and Food Engineering.
My studies in the faculty exposed me to a world rich in fascinating content. They constituted a world replete with concepts that very quickly became assimilated into my day-to-day conversations. Studies were intensive and included classes in core science subjects (chemistry, physics and biology) and demanding study of the fields of biotechnology and food engineering. My studies at the Technion prepared me for the workforce and for research, and provided me with tools for critical thinking, examination and design of processes, and sharpened by independent learning skills.
Throughout the course of my studies I worked: as a lecture in the field of biotechnology for "Science Enrichment for Youth" classes, as a social counselor for the Jewish Agency's student administration (helping to absorb new immigrants in the educational system) and I even participated in a student exchange for work purposes project run by I.A.E.S.T.E., during which I flew to Germany and worked in developing and testing an advanced filtration system for milk, at a division of the University of Munich. In addition, I was a member of the ISEF Foundation, which works to reduce the gaps in Israeli society in the fields of higher education.
Today I work for Galam, a leader in production and marketing of different starches and sugars for industry in Israel and around the globe. In my position I work as a food engineer in the development faculty in the area of applications in international markets. This job includes meetings with clients all over the world and providing assistance in the area of technological development of food products and new beverages. I consult and assist in introducing innovations and advanced materials to the industry.
My studies in the Faculty of Biotechnology and Food Engineering at the Technion are the best choice I made professionally. The faculty encourages inquisitiveness, excellence and ambitiousness and helps every student that faces academic and personal difficulties. For me, I found a welcoming home both as a student and today, as an alumnus.

Assistant Professor Esther Miron-Holtz | 04-8293349| meyron@bfe.technion.ac.il
Sharon Koren Kedmi| 04-8295608 |bfe.ug.ad@technion.ac.il | Biotech.technion.ac.il